Ind vs Pak In the first match of T20 World Cup 2022 against Pakistan, Team India won by 4 wickets and the hero of this victory was Virat Kohli. Team India won the match on the basis of Kohli's unbeaten 82.
Ind vs Pak T20 World Cup 2022: Indian team played the first match of T20 World Cup 2022 in Melbourne with Pakistan. In this match, Team India captain Rohit Sharma won the toss and decided to bowl first. Batting first, Pakistan scored 159 for 8 in 20 overs on the basis of Iftikhar Ahmed's half-century and Shan Masood's unbeaten half-century and set India a target of 160 runs to win. 
In response, Team India, chasing this score, scored 160 runs for 6 wickets in 20 overs and won the match by 5 wickets. Kohli was the hero of Team India's victory and scored an unbeaten 82 to give the team victory. India started the tournament with a win and earned two points after this win. 
India's innings, Kohli king of the match
Indian opener batsman KL Rahul was bowled out by Pakistan fast bowler Naseem Shah on the score of 4 runs. India's second wicket fell in the form of captain Rohit Sharma and he was caught by Harris Rauf on the score of 4 runs. Harris Rauf dismissed Suryakumar Yadav for 15 runs. Akshar Patel was unfortunately run out after scoring just 2 runs. Virat Kohli completed his fifty in 43 balls. Hardik Pandya scored 40 runs. Nawaz got out on the ball. Dinesh Karthik was stumped after scoring one run, but Virat Kohli scored an unbeaten 82 off 53 balls with 4 sixes and 6 fours. After this, R Ashwin gave the team victory by hitting a four. 
Pakistan's innings, Iftikhar and Shan Masood's half-centuries
Indian fast bowler Arshdeep Singh gave India a big success by dismissing Babar Azam for a duck on the very first ball of his debut T20 World Cup match. Arshdeep Singh gave India the second success and he gave Mohd. Rizwan was caught out for 4 runs. Rizwan's catch was caught by Bhuvneshwar Kumar. Iftikhar Ahmed was proving to be dangerous for India and he scored 51 runs off 34 balls with the help of 4 sixes and 2 fours, but Shami ended his innings by getting him out leg before and brought relief to India.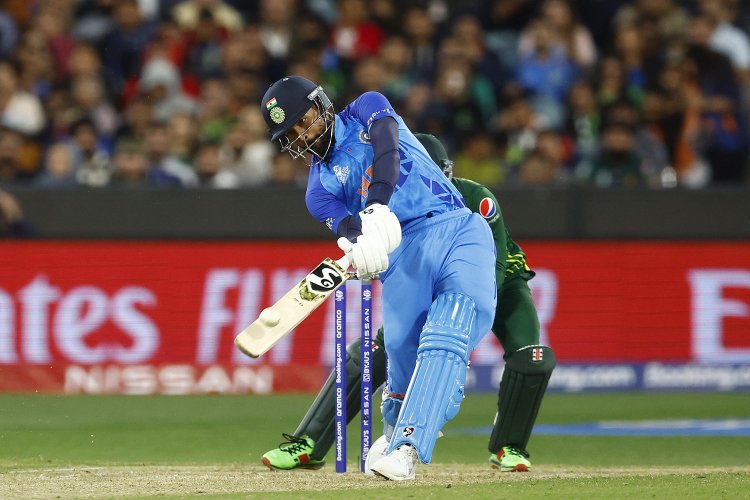 Hardik Pandya gave India the fourth success and got Shabad Khan caught by Suryakumar Yadav on the score of 5 runs. Hardik Pandya took his second wicket in the form of Haider Ali and got him caught by Suryakumar for 2. Hardik Mr. Took the third wicket of this match in the form of Nawaz and got him caught out for 9 runs. Arshdeep Singh got Asif Ali caught for 2 runs. Shaheen Afridi was caught on his own delivery by Bhuli for 16 runs. Shan Masood scored 52 runs off 42 balls with the help of 5 fours and remained unbeaten. In the first innings for India, Arshdeep Singh and Hardik Pandya took 3-3 while Bhuvi and Shami took one wicket each. 
Md. Shami and R Ashwin in the team, Pant dropped
Fast bowler Mohd in the Indian playing XI. While Shami was included, senior spinner R Ashwin was also included in the last eleven in this match, who can bowl as well as bat. While Rishabh Pant was dropped for this match, Chahal also did not get a place in the team. Dinesh Karthik was included in the playing XI. 
India's playing XI
Rohit Sharma (capt), KL Rahul, Virat Kohli, Suryakumar Yadav, Hardik Pandya, Dinesh Karthik (wk), Axar Patel, Ravichandran Ashwin, Bhuvneshwar Kumar, Mohammed Shami, Arshdeep Singh.
Pakistan's playing XI
Babar Azam (captain), Mohammad Rizwan (wk), Shan Masood, Haider Ali, Mohammad Nawaz, Shadab Khan, Iftikhar Ahmed, Asif Ali, Shaheen Afridi, Haris Rauf, Naseem Shah.